3-IN-1
PREMIUM HEPA FILTER BAG

Did you know that most vacuum cleaners filter the air we breathe? Well so does ours, in fact, the air that travels through the Kobold 150 comes out cleaner than the air in the room - approximately 1,000 times cleaner. Tried and tested, the German TÜV Standards Company have given the Kobold 150 a seal of approval. In combination with a HEPA Filter Bag the Kobold 150 is: "Suitable for Allergy Sufferers".

Not only that, TÜV Nord have also given Vorwerk top marks in regards to its vacuum cleaner bag. The bag is officially the worlds first certified: Premium HEPA Filter Bag, which has nine registered patents due to its excellent filtering performance.

The highly effective cleaning action owes itself to the Premium Filter Bag with an integrated HEPA filter. This HEPA filter traps even microscopic dust particles and allergenic substances such as dust mite excrement, pollen and mould spores.



Good for the Environment, Good for your Wallet, Good for You
The Premium HEPA Filter Bag provides you with three filter systems in one. The pre-filter layer, one of three layers, removes large coarse dirt particles. The HEPA filter layer, removes more than 99.9% of house dust allergy triggers, and is what makes the bag so special. In addition the bag contains active carbon granules to effectively neutralise bad odours, giving you hygienically clean, fresh air.

This means there's no more worrying about when to change a filter, when to clean it, or which filters need replacing. Saving you time & money, and also protecting the environment.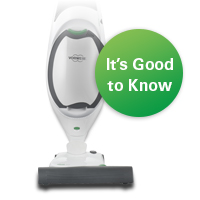 Always Hygienic: Even When you Change the Bag
Since day one Vorwerk vacuum cleaners have always used dust bags for one simple reason that still stands today. When replacing the HEPA Filter Bag the Kobold 150 automatically locks the bag shut, keeping in all the dust and allergens inside. This will avoid all contact with any substances vacuumed up and makes disposal of the dirt completely hygienic.